This aspect will be the sole provider of the revenue required to sustain the project. It MUST be run on a commercially viable basis to protect the future of the hub and the ability to expand/develop services at a later stage.
Indoor seating for around 40 covers, Outdoor terrace area 40/50 covers weather dependant
Open all day 7 days a week. 8.30am to 9pm/11pm depending on licence and season
Breakfast/Brunch, fresh juices, tea, coffees
Cakes, snacks, lunches
Evening meals
Support local producers/suppliers
Music/Quiz Nights/Events
Local/Tourist Information provision
Display/Info opportunities for community groups/projects
This area would be open for all to use whether local or visitors to the area. The pricing structure and menu offering is to be finalised but will be positioned to provide affordable offerings for the local market while maintaining commercial viability.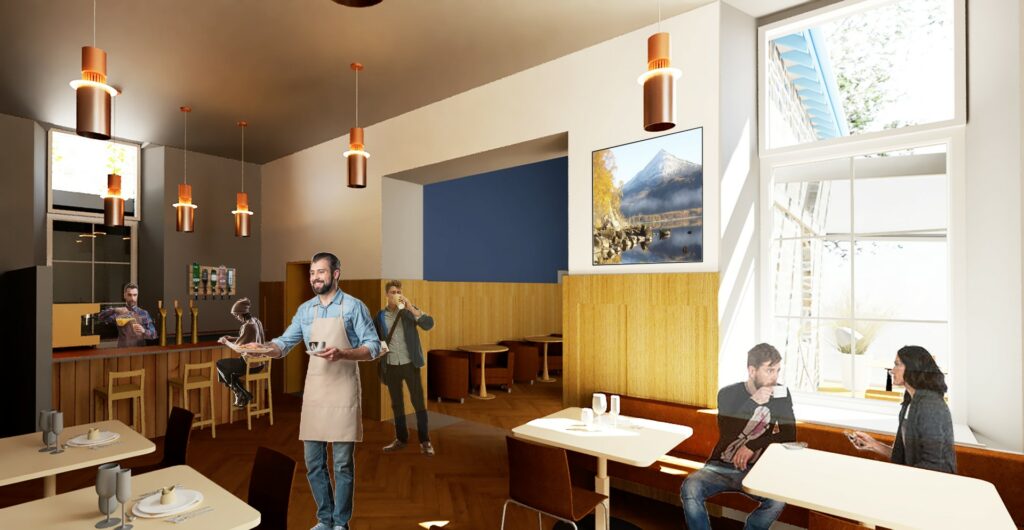 Employment
Management – of the commercial aspect of the Hub's Café/Bar/Restaurant operation requires individuals with the relevant legal licences, qualifications, training and skills.
In order to ensure the financial sustainability of the venture it also requires the individuals to have extensive experience of operating similar ventures.
There are major benefits to having on-site management staff such as significantly reduced insurance premiums, site security and the sense of ownership developed in management. Therefore the 1st floor area will be converted into a 1 bedroom management flat.
Until we have a fully finalised building design, with capacity both indoors and out, confirmation of services offered, menu plans, service times etc. it is impossible to guarantee exact employment figures.
Staffing – based on 40 covers inside/outside (weather dependant), opening 7 days a week for breakfast/lunch/dinner.
It is reasonable to assume that the hub would employ a further 10/12 staff
These would be a mixture of full/part time positions some of which would be seasonal.
Other Roles – It is also feasible that the revenue generated by the Café/Bar/Restaurant would be sufficient to fund other community positions through the RCT, such as project management positions, befriender services or other roles as identified in the community plans.
Work Experience / Apprenticeships – further opportunities can be explored with both local secondary schools and also working with Perth College and the University of The Highlands & Islands all of which have strong catering courses, in order to use the hub as a facility to provide training.