The community office will provide a high quality commercial office space which will be free to use and available to users including:
Local community groups
Local businesses
Local individuals
Public bodies working/visiting the area, such as:
P&K Council – Local Councillors, MP's/MSP's, Countryside Rangers
Police Scotland
NHS care workers/home support
Local Conservation Officers
RCT to develop a more permanent presence
The facility would hopefully provide greater collaboration and integration to local projects by developing a space where naturally more groups would come into contact with each other.
Due to the proposed layout of the building it would be possible to give interested Community Groups their own access to this part of the Hub (with the right agreements/procedures in place) giving groups the ability to access the Office, Meeting Room, Toilets as they require. The Café/Bar/Restaurant can be secured separately. CCTV will be in place across the site to ensure safety and security. Giving groups this access reduces the requirement for staff being present and the associated costs, while ensuring groups can access at times suitable to their needs.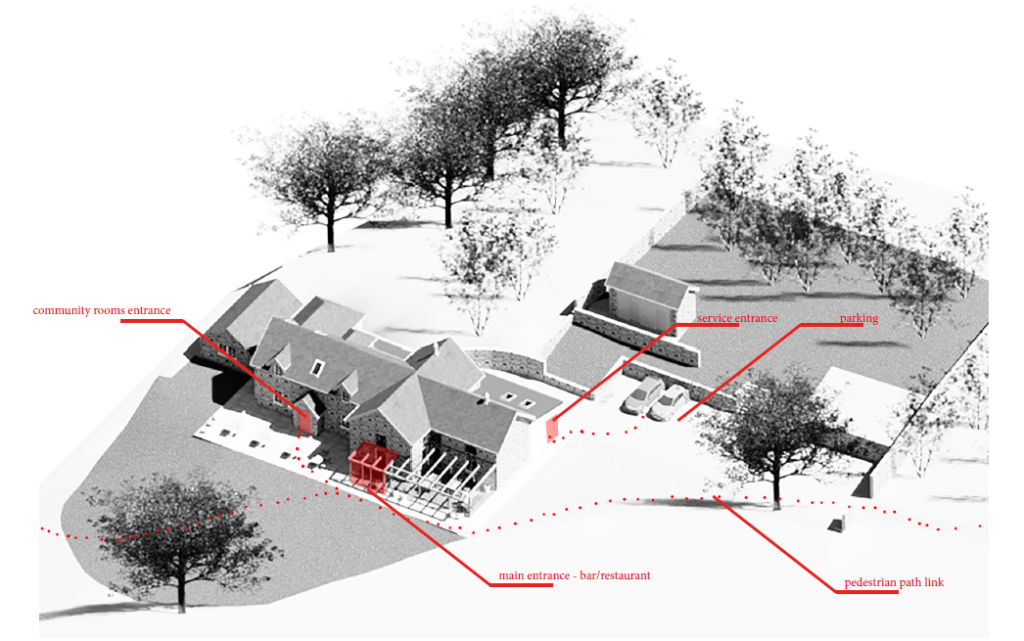 The office space will provide;
Up to 5 hot desking facilities with high quality PC's
Access to High speed Internet access
P&K Council HAVE installed a Full Fibre To Premises Connection (FFTP) to the building, this is only one of a few connections being installed by the council across Perthshire, the connection brings speeds of over 1000Mbps (WiFi will be available in all areas of the building and can be provided externally by antenna)
Access to software such as Office, Adobe Creative Suite, Photoshop, InDesign, Zoom, Skype, Video/Image editing software. By purchasing software licences these programmes can then be made available to other groups/organisations.
Classes and training can be provided to groups/individuals
High Quality printing in full colour in both A4 & A3 sizes allowing production of local information by community groups. Currently printing services are available in Aberfeldy, Perth or online
General office services such as photocopying, scanning, laminating, Stationary, Paper, Envelopes, Etc.
Currently almost all the 25+ community groups will incur general office/stationary costs which need to be met through their own budgets/funding.
Much of these costs are replicated by multiple groups whereas the Hub Office facilities will provide a centralised point of provision.
The costs of providing these facilities would be covered by the commercial operation of the Café/Bar/Restaurant. It is also planned to fund an Office Admin/Manager position to provide either RCT or wider Community Group support.
People working in the office can also benefit from the Café/Bar/Restaurant during service times.