The main road access route into Kinloch Rannoch passes by the site, ensuring that almost all visitors to the area need to pass the hub.
Developing the outside area of the Hub will attract attention to the site and help to attract visitors to enter.
High quality signage will also direct visitors to the facilities available at the Hub and ensure that the Hub can act as a local information point for the area. Information can be provided suitable to both short term visitors and tourists as well as keeping local residents informed about events, activities and developments in the area.
To the front of the Hub there is a fantastic, grassed area which we intend to develop into a terrace providing outdoor seating, meeting areas and possible performance areas.
This area would be suitable for events/meetings such as the community carol service (weather depending), community Christmas tree etc. and would help to provide a focal point for community activities in a safe and traffic free zone.
The terrace is South facing and benefits from direct sun access. With fantastic views of the adjacent waterfall, Loch Rannoch and Schiehallion.
Play areas and activities can also be developed into this area for younger children and families.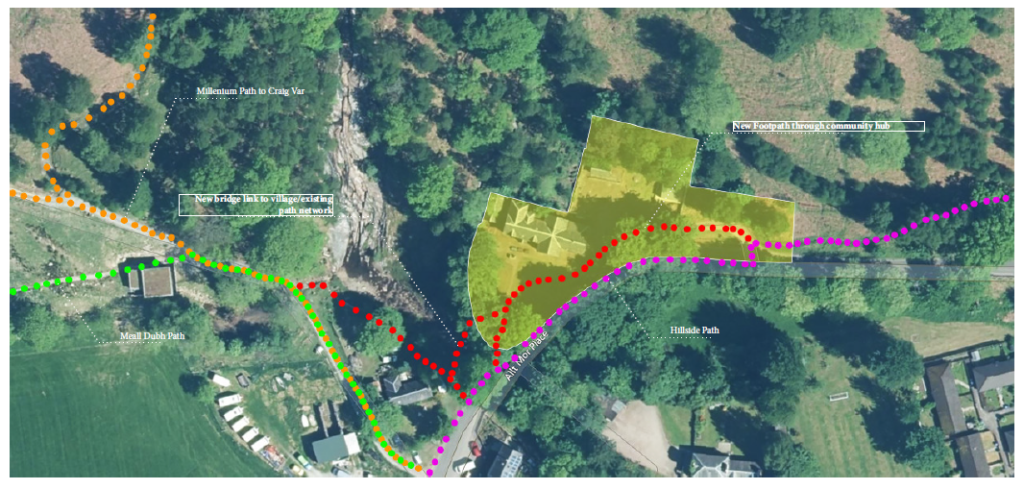 Access / Footpaths / Bikes / Parking
There is no public footpath on the section of road that passes the Hub site.
Currently any pedestrians who wish to: view the waterfall, access the hub site, access the hill path network, walk to/from Craig Varr Place/Schiehallion Place, must walk on the road carriageway around a 90 degree bend, a route with heavy traffic including large lorries and plant equipment.
There is also limited pedestrian access onto the hub site itself and no route for disability access other than along the roadway.
It is therefore proposed to create a new pedestrian bridge across the river directly into the Hub site and pathways through the site. This bridge and path would provide a safe access route compatible with accessibility regulations and be suitable for push chairs, bikes etc. This path can be further extended to complete the "missing link" in the current Rannoch paths network.
The site will also provide secure bike racks for the many cyclists who visit the area as well as a small number of car parking spaces.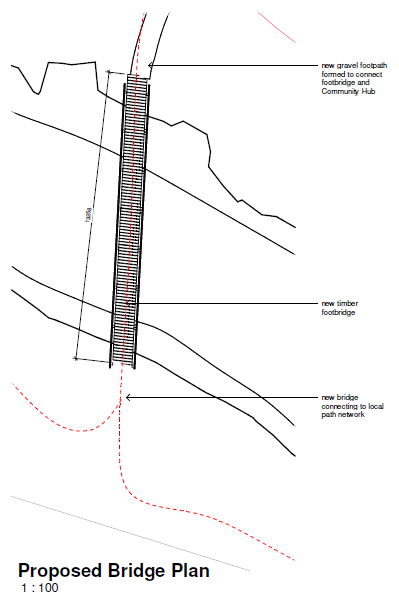 Community / Kitchen Garden
The site is large enough to develop a small community garden providing some fresh produce for use in the cafe/bar/restaurant or for other local community groups. The inclusion of a polytunnel would also help to increase the growing season given Rannoch's climate.